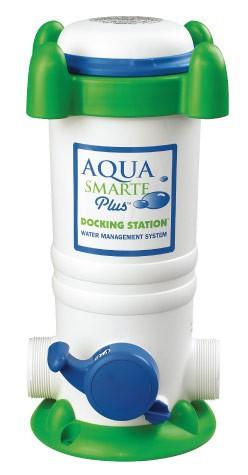 Aqua Smarte Plus Docking Station with Mineral Activator
QUESTIONS & ANSWERS
Have a Question?
Be the first to ask a question about this.
Ask a Question
Aqua Smarte Plus Docking Station with Mineral Activator
With Aqua Smarte Plus your pool water will look and feel better without a lot of work or a lot of chlorine. Aqua Smarte Plus minerals control bacteria and help keep the pH in a safe range without monitoring while reducing chlorine use. The end result is softer water that has an added sparkle.
There are three parts to the complete Aqua Smarte Plus Mineral System - the Docking Station, Mineral Activator and the MizerMax Pac (pre-filled chlorine pac).
The Docking Station acts as the "water treatment center" and controls the flow of water through the system. No extra plumbing. No electricity. No extra headaches!


The Mineral Activator, which contains our EPA approved mineral formula fits inside the Cycler. The minerals continually replenish themselves for added protection against bacteria, as well as keeping your pool's pH balanced by acting as a neutralizer. One Mineral Activator will last the full season or up to 6 months.


The MizerMax Pac (pre-filled chlorine pac) is then inserted into the Mineral Activator dispensing low levels of chlorine for 1-3 weeks. The complete system allows you to cut chlorine use by up to 50% over standard water treatment programs.
The patented Control Dial on the front of the Docking Station lets you manage the amount of water flowing through the system. Water is circulated upward into the Mineral Activator and chlorine MizerMax Pac simultaneously. The erosion design of this system continuously dispenses chlorine at a precise low level (only 0.5 ppm is needed). Once you've determined the correct setting for your pool just set it, then forget it for weeks at a time!
Aqua Smarte Features:
Convenience: the pre-filled Cycler Pac means no more touching or smelling chlorine.
Precision: The control dial precisely meters out just the right amount of sanitation for each pool.
Longer Lasting: trapped air in the upper part of the Cycler Pac keeps the chemical dry so it lasts longer with less consumed each season.
Reliability: Water cycles through only a small amount of chemical for more uniform and reliable output.
Why King Technology?
King Technology specializes in water treatment solutions for swimming pools and spas; with products sold throughout the U.S., Europe, and every continent of the world. We know you purchased your pool or spa to enjoy  great leisure activity with family and friends. That's why King Technology products are designed to do the work for you so you can sit or lay back and enjoy.