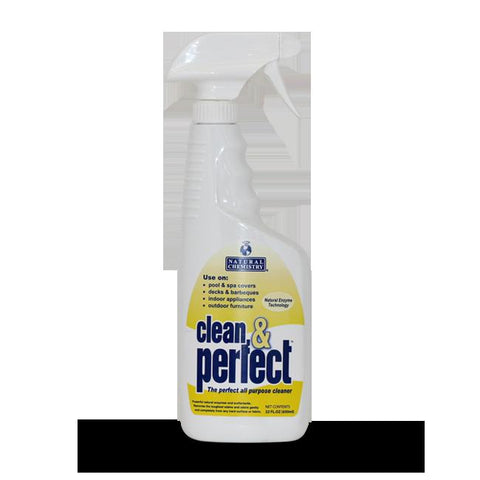 Clean And Perfect by Natural Chemistry
QUESTIONS & ANSWERS
Have a Question?
Be the first to ask a question about this.
Ask a Question
Clean And Perfect by Natural Chemistry
Clean & Perfect is a unique blend of powerful natural enzymes and citrus-based surfactants. It cleans even the toughest grease, dirt and grime with ease and yet won't harm any surface.
It can be used in and around the pool & hot tub water with no negative effects on pool chemistry.  It can also be used in and around the home without worry Clean & Perfect is environmentally better, non-toxic and biodegradable. Discover what thousands of satisfied consumers already have, and we guarantee you will be telling your friends about it!
Clean & perfect is also an excellent pool & spa filter cleaner/degreaser.
Clean & Perfect works great on anything that gets dirty, including:
Pool tiles & vinyl liners
Patio furniture & recreational equipment
Mildew residues & waterline rings
Leaf stains
Remove dead insects
Barbecues & microwave ovens
 The uses are endless!
Why Natural Chemistry?
Natural Chemistry has developed a regular maintenance program to continually remove phosphates as they enter the water.  The program works in conjunction with the enzyme-based Pool Perfect; combining the benefits of both products into an easy maintenance program for swimming pool owners.  While the  PHOSfree removes the phosphates, the natural enzymes gently biodegrade organic material in the pool water.
Our purpose is to enhance the lives of everyone we touch. We are constantly developing thoughtful, sensible solutions that focus both on the environment and the best interests of commerce and the consumer.

Through creative innovation and an energetic response to any challenge, we will continue to forge new pathways to provide only the best in product choices for the marketplace. We will always maintain our culture of family based values as the dominant guiding force in the relationships we develop on our journey. Through this approach we strive to enrich the moments in life that mean the most to all and create a meaningful legacy.
Natural Chemistry strives to:
Provide chemical-free, natural solutions to common problems
Make our products quick and easy to implement
Provide treatment programs for specific problems
Provide a wide variety of products to cater to many different needs
And overall, improve the lives of your pets, pool and spa!
Clear, Perfect Water...Unconditionally Guaranteed!