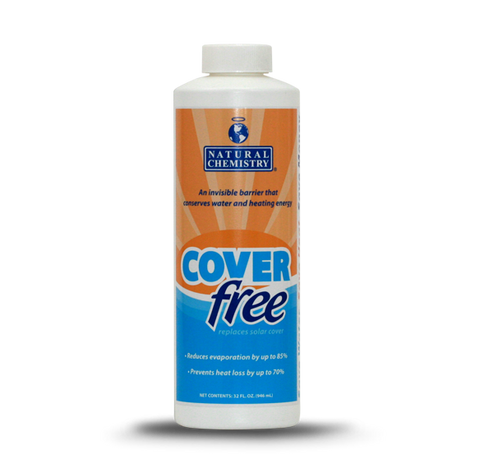 COVERfree liquid solar cover
QUESTIONS & ANSWERS
Have a Question?
Be the first to ask a question about this.
Ask a Question
COVERfree liquid solar cover
COVERfree is a patented technology that is a revolutionary liquid swimming pool cover. It is an advanced mono-layer product that helps save water and money by decreasing evaporation and heat loss. COVERfree creates an invisible barrier on the surface of the water in your pool that works even when swimmers are in the pool. Save water, save heat and save money with COVERfree!
It reduces water evaporation by up to 85% and reduces heat loss by as much as 70%.
Benefits & Features:

Invisible barrier that conserves water and heating energy. Reduces water heat loss by up to 70%!

pH neutral

Decreases evaporation, saving water and money

Surface tension allows COVERfree to remain in place or reform during swimming

Reduces water evaporation up to 85%
Why Natural Chemistry?
Natural Chemistry has developed a regular maintenance program to continually remove phosphates as they enter the water.  The program works in conjunction with the enzyme-based Pool Perfect; combining the benefits of both products into an easy maintenance program for swimming pool owners.  While the  PHOSfree removes the phosphates, the natural enzymes gently biodegrade organic material in the pool water.
Our purpose is to enhance the lives of everyone we touch. We are constantly developing thoughtful, sensible solutions that focus both on the environment and the best interests of commerce and the consumer.

Through creative innovation and an energetic response to any challenge, we will continue to forge new pathways to provide only the best in product choices for the marketplace. We will always maintain our culture of family based values as the dominant guiding force in the relationships we develop on our journey. Through this approach we strive to enrich the moments in life that mean the most to all and create a meaningful legacy.
Natural Chemistry strives to:
Provide chemical-free, natural solutions to common problems
Make our products quick and easy to implement
Provide treatment programs for specific problems
Provide a wide variety of products to cater to many different needs
And overall, improve the lives of your pets, pool and spa!
Clear, Perfect Water...Unconditionally Guaranteed!