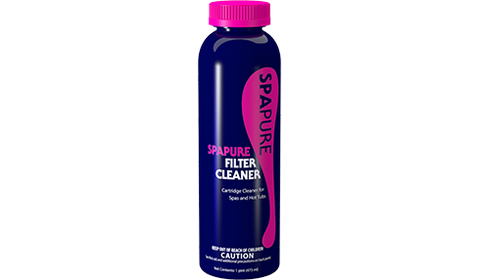 Filter Cleaner spas & hot tubs
QUESTIONS & ANSWERS
Have a Question?
Be the first to ask a question about this.
Ask a Question
Filter Cleaner spas & hot tubs
A spa filter removes a lot of stuff from your spa, most of which you cannot see. SpaPure Filter Cleaner cleans all the things that a spa filter grabs, such as body oil, dead skin, dirt, and grease. Regular cleaning of your filter will keep your water beautiful.
Features
Available in liquid and dry formulations.
Benefits
Improves filtration capacity of spa, maintain adequate flow and circulation
Increases the life of the spa filter
Compatible with all sanitizing systems such as chlorine, bromine, mineral cartridges, ozone, non-chlorine systems, etc.
Made in the USA
Applications
You can use Filter Cleaner to clean two different ways!
SOAK: Mix 16 ounces to 2.5 gallons of water and submerge the filter. Soak filter for 30 minutes or longer, remove and rinse
SPRAY: Spray Filter Cleaner into the pleats of the filter Allow cleaner to stand for 15 minutes and rinse.
Use Filter Cleaner every 4 to 8 weeks depending on sanitizing system, frequency of use, filter size, etc