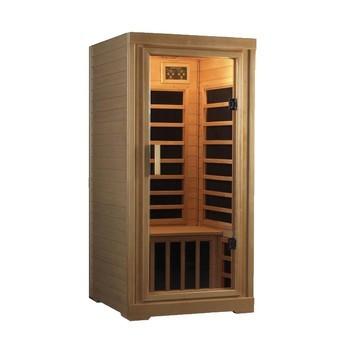 QUESTIONS & ANSWERS
Have a Question?
Be the first to ask a question about this.
Ask a Question
G910 one person sauna
The benefits of heat bathing become tangible once you've experienced an authentic Finnleo traditional sauna or far-infrared sauna room. Muscles relax. Aches fade away. Heart and circulation improve. Calories are burned. Skin is renewed. Tension and discord slip into harmony. Body and soul are refreshed.
A Trinity Infrared sauna provides soothing heat, directly radiated to the body, with very little time waiting for preheating. Trinity's revolutionary Carbon-Flex® heating system ensures soft heat, fully surrounding the bather. With infrared heating panels literally spanning wall-to-wall, the heat radiates in a wide angle from each wall so the heat is spread evenly within the cabin space.
• Dimensions: 36"D x 36"W x 75"H
• Electrical Requirements: Plug-in, 15 amp 120-volt outlet
What is a Far-Infrared Sauna?

Far-infrared saunas radiate a deep, penetrating heat that melts cares away at the end of a stressful day. If you like to work out, an infrared session before your exercise warms up muscles and increases felxibility, helping to avoid injury. use after a work out for gentle soothing of sour muscles. And with minimal witing time for pre-heating - when you're ready to relax and re-energize, your Finnleo far-infrared is ready is as well.