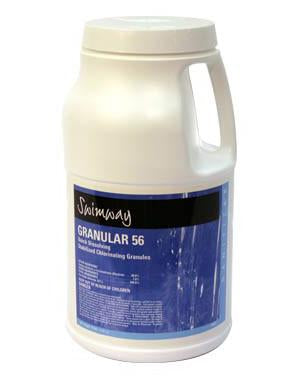 QUESTIONS & ANSWERS
Have a Question?
Be the first to ask a question about this.
Ask a Question
Chlorine Granular 10lb.
Chlorine residual should range between 1 to 3 ppm. Adjust pool or spa water balance and stabilizer to desired levels. Apply product when swimming pool is not in use and with pump running.
BENEFITS:
Fast acting Granules are completely soluble In moderate doses, will not affect pH. Ideal for small swimming pools
TIP:
2lbs of Granular Chlorine = 1 Case of Liquid Shock (Treats 40,000 gallons of water)
• 56% available chlorine pH is slightly lower than neutral
• Stabilized chlorinating product