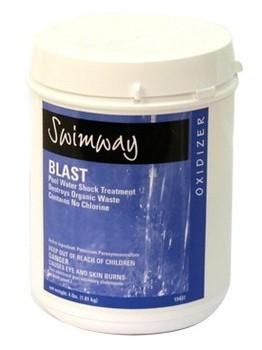 Non-Chlorine Blast pool water shock 1lb bag
QUESTIONS & ANSWERS
Have a Question?
Be the first to ask a question about this.
Ask a Question
Non-Chlorine Blast pool water shock 1lb bag
Blast is a non-chlorine 100% Potassium Monopersulfate pool water shock treatment that destroys organic wastes. This product eliminates non-living organic contaminants that cloud your swimming pool water. This product lasts longer than other above ground swimming pool oxidizers.
Blast is a 100% soluble, non-chlorine pool water shock treatment that will effectively destroy organic contaminants and free combined chlorine, allowing it to effectively sanitize pool water.
• Chlorine-fee - pool is available for use right away (check chlorine levels before     entering)
• Frees chlorine that has combined with contaminants, therefore ineffective
• Destroys organic waste
• Calcium Free - does not scale
• No messy liquids - No bleaching
• Does not increase pH of pool water
• Compatible with chlorine and non-chlorine programs
• No waiting period to swim
• 100% Chlorine Free
• Weekly pool shock
• Extends the life of your pool's chlorine
• Recycles bad chlorine cells into good chlorine
• Does not add calcium to the pool
• Dissolves quickly without leaving a residue
• Easy to use 
***PLEASE NOTE: This chemical could be received separately. If your order contains Chlorine or Non-Chlorine Shock an adult must sign for delivery.***